CNEx Professional Services
"The overall aim of certifying products, processes or services is to give confidence to all interested parties that a product, process or service fulfills specified requirements."

-ISO/IEC 17065
Nanyang Explosion Protected Electrical Apparatus Research Institute (CNEx) is a professional research institution focusing on certification and testing of products used in explosive environments (Ex-products, or commonly known as products used in hazardous locations). Its mission remains to provide expert service that gives rise to increased consumers' confidence and stronger trust in the market of explosion-protected products.
CNEx upholds the principles of integrity, impartiality and confidentiality through decades of practice in the field of ex-safety, focusing on the following:
Providing evidence-based information for consumers to make informed decisions.
Assisting manufacturers in meeting national standards and voluntary requirements to gain wider market access and demonstrate product competency.
Helping to bring an increasing number of qualifying products to the international market.
Working with laboratories and organizations across the globe to reduce processing time and administrative costs of certification applicants.
China Compulsory Certification (CCC) Mark
CNEx is a nationally accredited organization that helps North American companies obtain the China Compulsory Certification (CCC) Mark for products used in hazardous locations (Ex-products).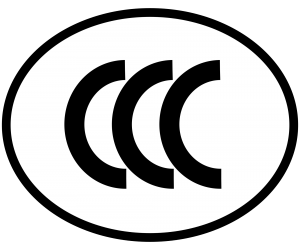 We are an authorized Certification Body that can help you through the new CCC application process. The new regulation, effective starting on October 1, 2020, requires all Ex-products sold in China to be CCC-certified, irrespective of where the products were manufactured.
Imported products are inspected by customs authorities for CCC compliance and proper labeling, for which fines and detainment of goods could apply in cases of noncompliance. As such, manufacturers for Ex-products are highly recommended to apply as soon as possible, to ensure that their products are successfully and promptly certified to enter the Chinese market.
Do not delay meeting with one of our experts to discuss how to ensure your products can be safely and legally be exported to China. Contact us today.
Download our brochure for a comprehensive overview of CCC for Ex-products.
Classification of Ex-products 
The following Ex-products are required to obtain the CCC Mark, according to CNCA-C23-01:2019 – Compulsory Certification Rules: Explosion Protected Electrical Equipment. Reference codes are provided in parenthesis.
Ex motors (2301)
Ex electric pumps (2302)
Power distribution systems (2303)
Switches, control and protective devices (2304)
Ex starters (2305)
Ex voltage transformers (2306)
Ex actuators and solenoid valves (2307)
Ex plugs and sockets (2308)
Ex monitoring devices (2309)
Communication and signaling equipment used in Ex atmospheres (2310)
Air conditioning and ventilation equipment used in Ex atmospheres (2311)
Electric heaters used in Ex atmospheres (2312)
Ex accessories and components (2313)
Ex (measuring) instruments (2314)
Ex sensors (2315)
Safety barriers (2316)
Ex instrument cabinets (2317)
Please note that not all Ex-products are subject to the new CCC rule, such as LED lights. For Ex-products excluded from the CCC catalogue it is still possible to convert ATEX certificates to Chinese ex-certificates.
Reference standards for certification
The CCC Rule requires Ex-products to be certified according to the following  standards:
Type of Explosion Protection
Ex Code
Chinese Certification Standard
Gas applications
Generic standard for gas applications
–
GB 3836.1-2010
Flameproof enclosure
'd'
GB 3836.2-2010
Increased safety
'e'
GB 3836.3-2010
Intrinsic safety
'i'
GB 3836.4-2010
Pressurized enclosure
'p'
GB 3836.5-2017
Liquid immersion
'o'
GB 3836.6-2017
Powder filling
'q'
GB 3836.7-2017
Type "n"
'n'
GB 3836.8-2014
Encapsulation
'm'
GB 3836.9-2014
Dust applications
Generic standard for dust applications
–
GB 12476.1-2013
Intrinsic safety
'iD'
GB 12476.4-2010
Protection by enclosure
'tD'
GB 12476.5-2013
Encapsulation
'mD'
GB 12476.6-2010
Pressurization
'pD'
GB 12476.7-2010
Relevant GB standards can be accessed at the China National Standards website.
CCC Certification Process
The CCC certification process includes three major stages:
Type test which entails product evaluation, testing and certification at the CNEx laboratories;
Initial factory inspection of the manufacturer's facilities by CCC Ex-auditors appointed by the certification body; and
Post-certification supervision, which informs renewal of the CCC certificate.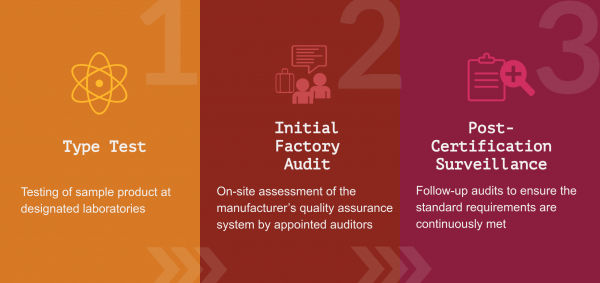 When a product goes through the certification process for the first time, CNEx conducts a final comprehensive review of results from part (1) the type test and part (2) the initial factory inspection, and draws a conclusion of either CCC issuance or termination (for which reasons will be provided for improvement and opportunity to re-apply). An initial certificate is valid for up to five years, and can be renewed through post-certification supervision.
ATEx and IECEx Certification
Even though your products may already have both ATEx and IECEx Certifications, this is not enough to meet the standards and specifications for the CCC Mark for Ex-products.
If you would like to read about our ATEx and IECEx Certification services, please refer to the following websites:
IECEx and ATEX production quality services
Global Partnerships
CNEx has partnered with Ex-product certification organizations covering every major continent in countries such as US, Canada, UK, France, Germany, Finland, Norway, Japan and Australia.
Contact us to work with our specialists on determining how your Ex-products can meet the new regulations for the Chinese market under the new CCC Mark.